TSANet offers members the opportunity to showcase their company's customer support organization. The latest company in the "Member Spotlight" series is Arcserve.
TSANet interviewed Ambarish Kumar, Senior Director of Support at Arcserve.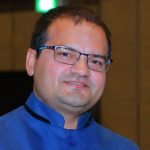 About Arcserve
Arcserve first emerged in 1990 as Cheyenne Software and flourished as a backup software provider with their foundational ARCserve Backup solution. In 1996, Arcserve was acquired by CA Technologies whereby it continued to develop and market the Arcserve product under the same brand. After 18 years as a product line under the CA Technologies umbrella, Arcserve became an independent company under the ownership of Marlin Equity Partners in 2014.
Their company provides some of the largest independent software vendor (ISV) developed products in the market, which support a wide variety of platforms and applications. Arcserve's solutions range from email archiving and backup and recovery, to disaster recovery and high availability.
Backup and recovery is delivered through their flagship solution, Arcserve Unified Data Protection (UDP), which is fully-integrated and deployable as software, set-and-forget virtual or physical appliances, and a hybrid cloud service. Archiving is offered through Arcserve UDP Archiving, which protects email records on-premises, or in a private or public cloud. Direct-to-cloud BaaS and DRaaS is offered through Arcserve UDP Cloud Direct, and high availability is delivered with Arcserve Replication and High Availability (RHA).

They sell across all verticals through their worldwide network of channel partners in 150 countries. Their solutions are enterprise-ready but designed specifically with ease of use for midsize businesses.
Arcserve Support
Arcserve has support centers in Hyderabad – India, Barcelona, Tokyo, and Sunnyvale – California. Their support center has three support levels: Tiered Model, L0 – Support analyst, L1- Support engineers, L2- backline and Engineering. They currently provide support in English, Japanese, French, Italian, Spanish, German and Portuguese.
They provide onsite and remote installation and configuration of all products, as well as training through technical certification programs and workshops. Arcserve provides support through chat, email and phone, and their customers are free to choose the mode of support that best fits their needs. In addition, customers can also browse known solutions for problems through Arcserve's knowledge base. Customers have access to many resources via the knowledge base, such as documentation specific to a product, licensing information, downloads, blogs and more.
Arcserve Training
The initial training program is 90 days, with the first half focused on technologies such as operating systems, databases, hypervisors, and cloud.  The second half of the training program is dedicated for in-depth training on Arcserve's product architecture, workflows and troubleshooting.
Arcserve looks for professionals with expertise in operating systems, databases, hypervisors and cloud technologies – as well as customer handling and communication.
They currently employ over 150 seasoned support professionals.
Multi-Vendor Support
Prior to joining TSANET, Arcserve leveraged customer contracts and asked customers to conference us with other vendors.  After becoming a TSANET member, they use TSANet for such incidents. "TSANet has enabled us to troubleshoot much quicker and resolve multi-vendor tickets," said Kumar.
Arcserve Best Practices
Arcserve focuses on consistent training to ensure their support professionals are current on technology advancements. Through their online training portal, engineers are able to enroll in courses of their preference and obtain certification on the same. Class room sessions are facilitated by their Adjunct Faculty team – seasoned support professionals who focus on handling customer escalations. In this way, their trainers stay current on known bugs and the applicable fixes.
Being in the business of data protection, Arcserve's support professionals are well equipped to handle backup, restore, and disaster recovery scenarios in addition to maintaining in-depth knowledge of operating systems, databases, hypervisors, and cloud technologies. The overwhelming majority are certified in one or more industry certifications, such as RHCE, MCSE, CCNA, SNIA, and VMware, to name a few. "This advantage gives us the ability to analyze issues in detail, understand the root cause, and inform the customer of the origin of the problem, even if it is not related to our product area," said Kumar.
Arcserve has won many awards at the company level such as the 2017 Innovation in Cyber Security for disaster recovery, Best Cloud Backup Services for Businesses, Arcserve UDP 8100 Appliance, StarTribune 2017 Top Workplaces, 2017 CRN Channel Chief, CRN's 2017 Women of the Channel, and more. Click here to view all of Arcserve's awards.
We would like to thank Ambarish and Arcserve for their support and participation as a Premium Member of TSANet since 2015.
If you would like your company to be featured in Member Spotlight please contact Brittany Jimerson, brittany@tsanet.org