Cisco hosted the TSANet North American Focus Group meeting at the San Jose, CA, Cisco facility.   TSANet Members Actian, Dell, Cisco, Cloud Software Group, Cloudera, Google, IBM, Lenovo, Microsoft, Nutanix, Red Hat, Rubrik, Oracle, UIPath, HCL, Infinidat, Rimini Street, VMware, NetApp, Intel, Pure Storage, Unisys, Veritas, Software AG and HPE participated in the event.
Developing the TSANet 2026 Strategy
The meeting focused on topics driving the next TSANet Strategy (2026).   During 2023, the following areas were highlighted as critical to Members as we invest in the future of TSANet.
Collaborating with Hyperscalers and other Cloud Vendors
The next generation TSANet Connect 2.0 System
Technology Partnerships (Alliance Partners and Strategic Partners)
TSANet Industry Advisors
TSANet invited industry consultants to the meeting to provide input on discussions and the TSANet Strategy.   TSANet will include industry advisors as we develop the TSANet Strategy and start implementation in 2024.   The industry consultants facilitated the workshops during this meeting:

Technology Partner Framework
One of the major initiatives during the next strategy cycle is to develop the TSANet Technology Partner Framework further.  The industry consultants lead discussions on the critical elements of this framework and how TSANet can add value to Members through this framework.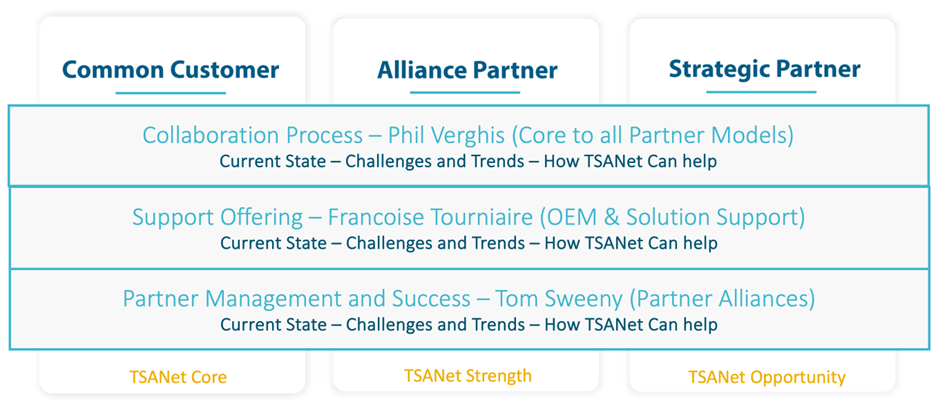 Next Steps
Over the following months, TSANet will collect input from other Regional Focus Groups on the TSANet Strategy.  The new TSANet 2026 Strategy will be communicated at the member meeting in December.    To get updates, please register for the following webinars:
TSANet Connect 2.0 Update
Date/Time: Tue, Oct 31, 10:00 AM – 10:30 AM CDT
This Webinar will look at the status of the next generation of TSANet Connect.
TSANet Member Meeting
Date/Time: Tue, Dec 12, 10:00 AM – 10:30 AM CST
This Webinar is for all TSANet Members. A review of 2023 and the next TSANet Strategy 2026 will be provided to Members.