TSANet offers members the opportunity to showcase their company's customer support organization. The latest company in the "Member Spotlight" series is Cloudera.
TSANet interviewed Angus Klein, Vice President of Support, Adam Warrington, Director of Internal Systems Engineering, and Linden Hillenbrand, Senio. Director Advanced Support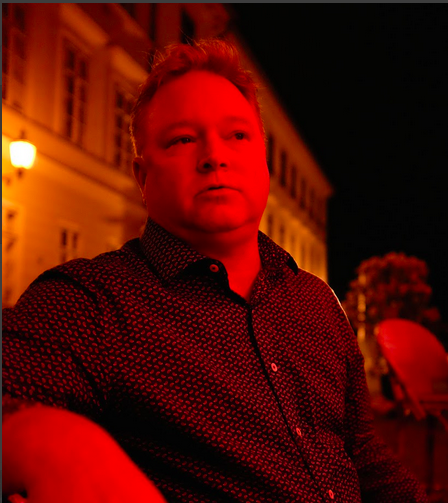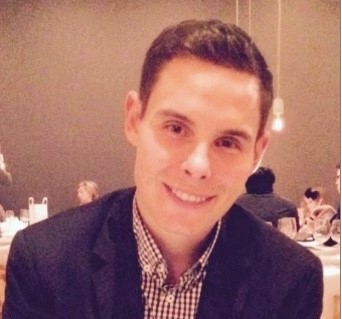 About Cloudera
Cloudera, founded in 2008, delivers the modern platform for data management and analytics. 'They provide the Apache Hadoop platform, which is one place to store large amounts of data, access that data through multiple frameworks, and run computations across large data sets all within the same platform. One of the reasons they have a huge upside as a company, is their solutions are not confined to one particular application. Their applications include data engineering, analytic database and operational database. Cloudera allows customers to deploy and run their applications on any Cloud platform. Click here to learn more about their products.
Cloudera's objective is for their customers to gain value from their data by providing a data platform that will scale with the size of the customer's data.  Cloudera makes Hadoop fast, easy, and secure so customers can focus on results, not the technology.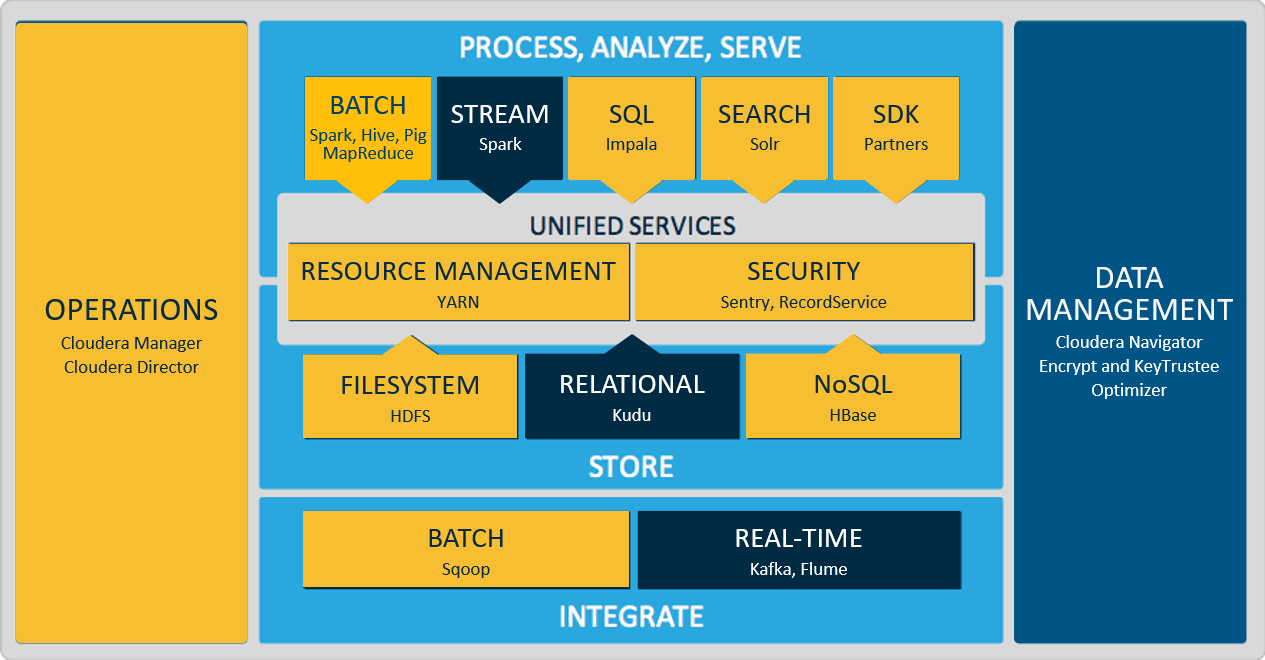 Their company is headquartered in Palo Alto, CA and has different locations globally including China, Japan, United Kingdom, Germany, France, Singapore, South Korea, Australia and India. They have a wide partner ecosystem ranging from cloud, platform and software. Click here to view Cloudera's partners.
Cloudera Support
Cloudera has support centers in Tokyo, Melbourne, Chennai, London, Shanghai, Budapest and several U.S. Locations (with the main centers in Palo Alto, CA, Austin, TX and Raleigh, NC). They deliver 8×5 local language support in Portuguese, Spanish, English, Japanese, Korean, and Mandarin. Cloudera support utilizes a follow-the-sun model to deliver 24×7 enterprise level support to their customers.
Customers can file cases via their Support Portal, which is available to registered customers. The easy to use portal gives customers the ability to see cases by requester and organization, ability to see open and closed cases, add a case comment by replying to email notification or logging into the application, and receive notification of case creation and case updates.
Cloudera Support leverages a diagnostic methodology named Cloudera Diagnostic Process (CDP) to ensure the customer experience with each case is consistent and results in the quickest resolution possible. CDP ensures that the customer is kept abreast of each stage of the troubleshooting process until resolution.
Their organization have invested heavily in Support over the last 3 years, growing the team's staff of dedicated Support personnel by over 100%. The team is comprised of multiple sub teams including:
A Tools Team that is focused on building tools for Support Engineers to solve issues faster.
A Proactive Support Team that has proven to help customers achieve ROI on their Cloudera Support subscriptions. Read more here.
A Support Systems Team focused on enhancing their customer's experience with their online Support Portal as well as internal case management tooling, augmenting systems for Support Engineer productivity. See more here.
A Global Support Programs Team focused on enabling our customers and Support Engineers to become proficient at using our products via training and content.  This includes Support Learning, Community & Knowledge, and Business planning programs.
A Front Line Support team spanning their global centers and is staffed with the equivalent of most Support Department's Level 3 (L3) personnel. Front Line Customer Operations Engineers (COEs) are of one of three profiles (with a mixture of Systems, Operations and Development backgrounds).
A Back Line Support Team focused on two main areas:

Ensuring that the Front Line Support Engineers receive timely escalation help
Analyzing trends across the product stack that represent opportunities for usability enhancements for their customers

The Quality Team is focused on improving the quality of customer conversations in cases by performing case audits. Through this audit process the Team provides tangible ways to coach and mentor Support Engineers to improve the quality of service provided to their customers.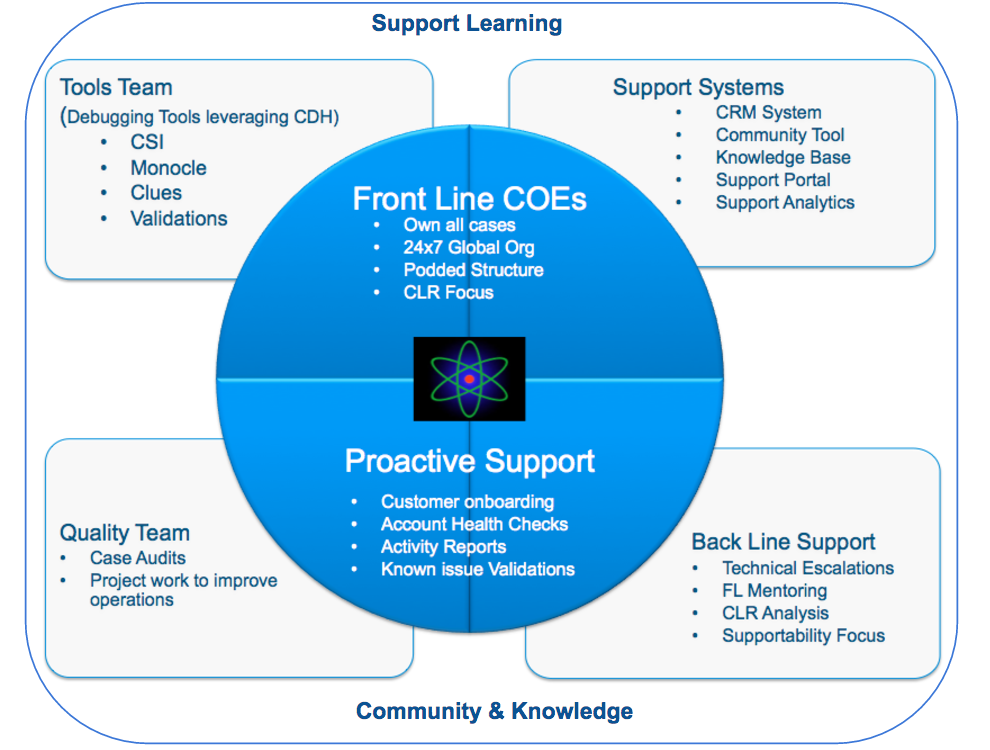 Cloudera Support has an intense 8-week new hire training program because of the complexity of the ecosystem. No engineer touches a case until they complete the training and the skills assessments. According to Angus, they create qualified Support engineers rather than hire them.
Multi Vendor Support
The Hadoop ecosystem is complex and constantly changing. Cloudera works with partners to drive innovation across the Hadoop ecosystem and ensure customers always have access to purpose-built, integrated solutions for their industry. With the assistance of leading system integrators, they can venture into the world of big data with trusted, experienced advisors customers can count on.
Cloudera wants their customers to be successful in their venture into the world of big data. Because of the many integration points and the complexity of the ecosystem, issues do arise and sometimes the cause and solution of the issue is not within the Cloudera software, but rather within a product built by another vendor who may or maybe not a Cloudera Partner. The TSANet platform provides a quick and easy path for their Support Engineers to engage the vendor/partner support organization to quickly isolate and resolve multi vendor issues. At Cloudera, they believe in providing high quality service to their customers; rather than sending the customer to the other vendor.
Cloudera Best practices
Cloudera is SCP (Service Capability and Performance) certified and are the 1st and only Hadoop vendor to have support certified. They a SLA compliance success rate of 99.7%, and over 15% of support tickets are automatically generated by their predictive support capabilities, preventing many customers from experiencing issues before they happen. Their support organization has 18 contributors, 3 committers and 1 Project Management Committee (PMC) member within support alone to help customers solve problems quickly.
Cloudera Support measures customer satisfaction religiously with both transactional and relationship surveys as part of their Voice of the Customer (VoC) program. Read more here. They currently have a 9.1/10 Customer Satisfaction (CSAT). Cloudera has averaged 8.8 / 10 on their surveys since September of 2011. More importantly, Cloudera has learned from customer input and improved their operations accordingly.
Their support tools team is a heavy user of their product and a process provides internal advance user access to test the new release to identify bugs and to ensure quality within their software. They are power users for the products and cover a large amount of functionality before it is released to the customer. The Cloudera support team reports to Engineering and provides a lot of customer feedback on how the product is both used and supported.
Cloudera has a team that is dedicated to auditing cases for quality compliance. Some of the areas they audit is customer service tone, codification of the case, case management, and Cloudera Diagnostic Process. After they capture the data, they report the information to the managers and then the managers are able to use that data to coach the support engineers.
We would like to thank Angus, Adam, Linden and Cloudera for their support and participation as a valued Member of TSANet since 2013!
If you would like your company to be featured in Member Spotlight please contact Brittany Jimerson, brittany@tsanet.org