2023 Member Workshops
TSANet held two workshops in 2023 to gather input on collaboration with Hyperscalers such as AWS, Google, Oracle, and IBM.   Through brainstorming sessions and follow-up sessions to prioritize and set actions, the teams defined the top areas of focus.
Legal, Systems, and Teams
Technology Partner Relationship Models
Hyperscalers have defined Partnership models to support the products and services sold to end customers.  Technology Partnerships include Alliance Partners, and Strategic Partners providing technology to end customers.
Alliance Partner
Hyperscalers provide a Marketplace for customers to discover solutions designed to work with their services.   Partner Alliances are designed for scale and include 100's of companies providing solutions to maximize sales for both Partners.   As it is often unclear what the customer demand will be, an efficient method to onboard and manage partners through the lifecycle is needed.
Strategic Partner
Hyperscalers also for strategic relationships with Technology to provide core technology or bundle services to end customers.  Each of these relationships is unique but often includes a support process where the Hyperscaler provides support to the end customer and escalates issues to the technology vendor.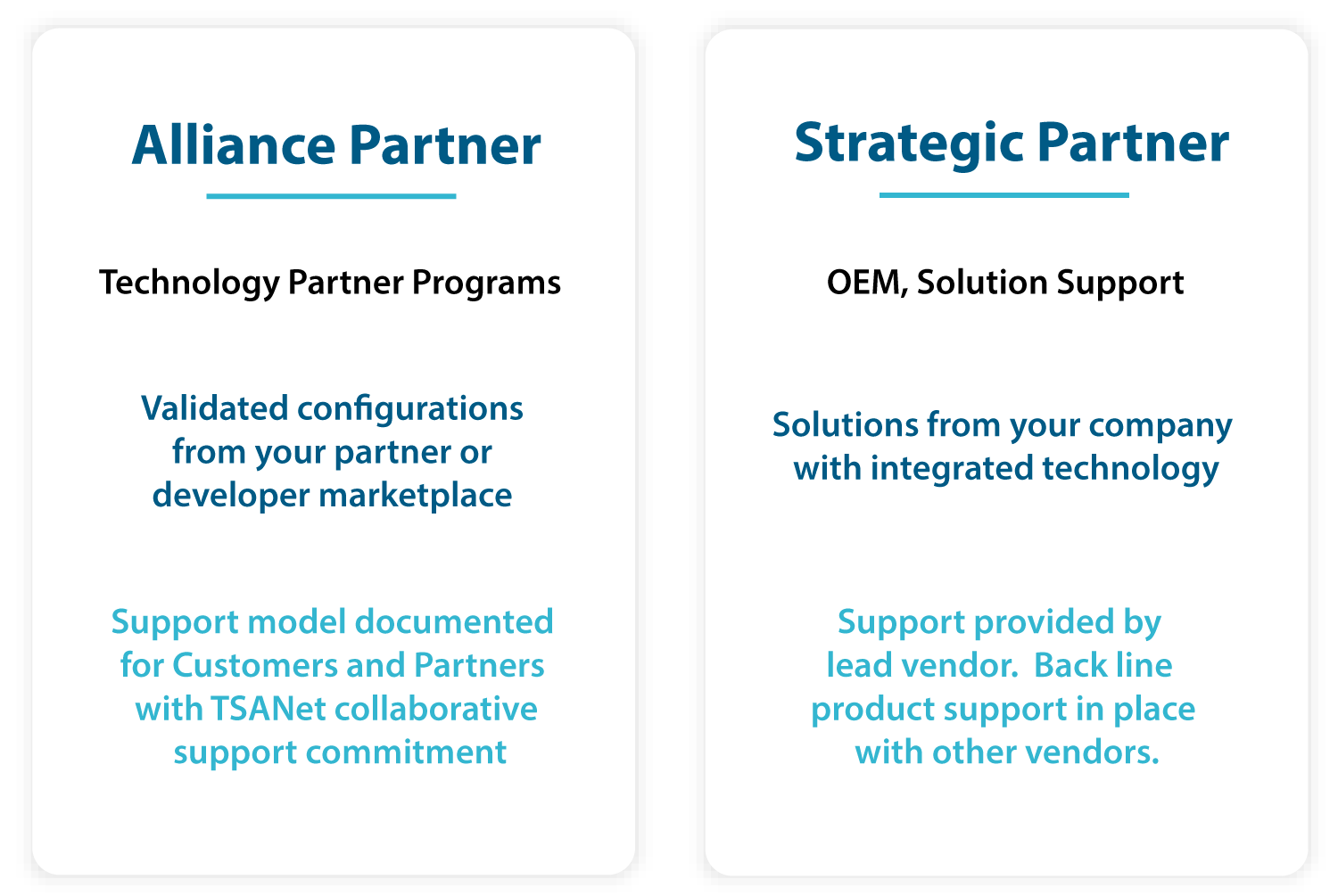 TSANet Partner Framework
Legal
Legal requirements for each Partner model follow the support model in place with the Partner.   The teams looked at the Legal documents in place to understand common requirements that could be updated into the TSANet Legal framework.  One example of this is the common legal language needed to support GDPR and ISO 27701 requirements for personal data.
Systems
A flexible method to integrate systems was needed to support the methods of Partnering.   The group discussions helped define the requirements for the TSANet Connect 2.0 system, including improved system integration capabilities and ongoing messaging for collaborations.   Improved system integration will allow hyperscalers to define a workflow that ensures compliance with agreements such as customer consent for collaboration.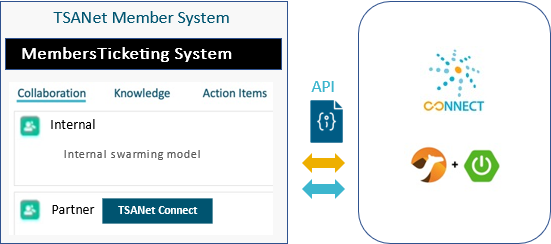 Integrated System with TSANet Connect 2.0
Teams
The type of Partnership greatly impacted the type of working relationship that was put in place.
For Alliance Partnerships, a consistent method of collaboration and awareness of the solution was enough to allow collaboration on escalated issues as needed.
For Strategic Partners, a much closer working relationship was needed and included engineer training and co-location to ensure support readiness.
Next Steps – TSANet Cloud Committee
TSANet will create a cloud committee that will be in place for the next 2024-2026 Strategy period.  This group will work with TSANet Staff to prioritize and implement improvements to the TSANet Technology Partner Framework.  If you are interested in working on the TSANet Cloud Committee, please get in touch with Paul Esch @ paul@tsanet.org