To verify you can collaborate with your partner, TSANet requires you to validate an inbound test case submitted by TSANet staff. Once the test case is confirmed, you will be activated in the partner program. A confirmation email will be sent by TSANet.
An inbound email will be sent to the support email alias inputted during the sign-up process. The email from connect@tsanet.org will contain information including a problem summary and description as well as mutual customer information. The test email will contain dummy information and noted as a TSANet Test Case.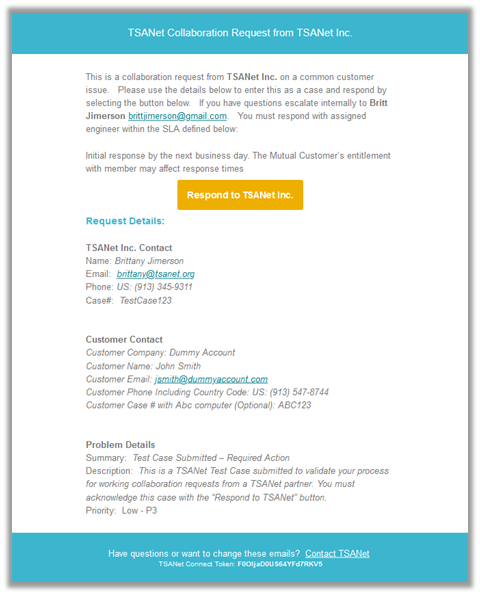 To respond and validate the case, any user can click on the button provided in the email. DO NOT REPLY TO THE EMAIL.  When a user clicks on the Respond button, a response form will need to be filled out containing your case number, engineer's contact information and can include an optional note such as next steps (see image below).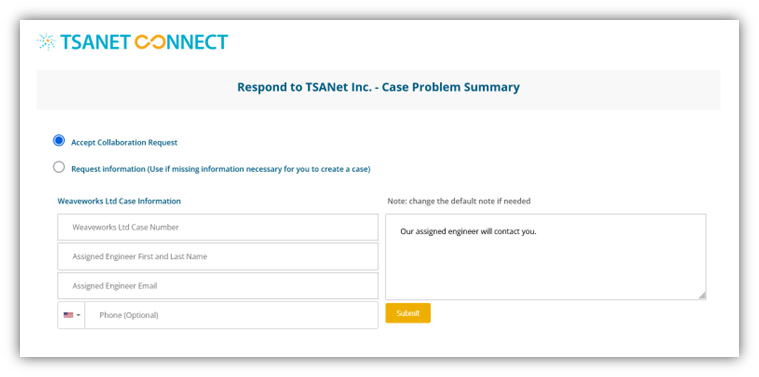 This information is sent to the engineer submitting the request.  Once a request is acknowledged via the response form, the TSANet Connect process is complete and you will track and close the case via your internal CRM system. TSANet will only record the case numbers on both sides. All customer information and other information is deleted.