Overall support demand grew at an average rate of 11% from 2021 to 2022, yet 80% of service leaders anticipate a reduction in their ability to hire.
Support demand is growing consistently with an average rate of growth of 11%.  Although overall demand growth is not universal, most (59%) companies experienced an increase in demand while only 13% of companies saw a decline.
Figure 1: Change in Overall Support Demand 2021 to 2022


Figure 2: Top Drivers of Increased Support Demand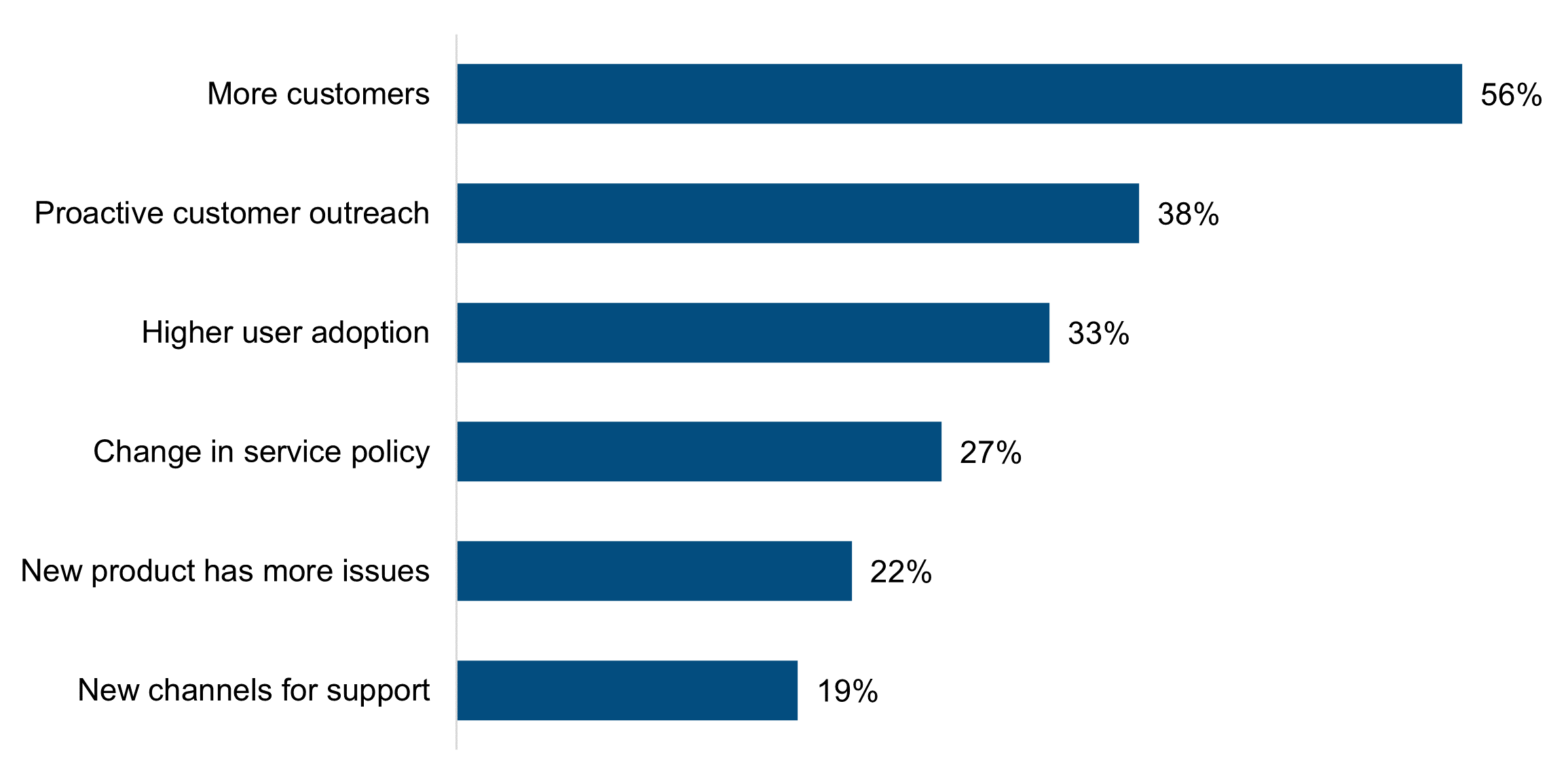 Multiple responses allowed
(N = 328) ServiceXRG 2023
More Customers = More Demand
The leading reason for increased support demand is due to an increase in customers.  From a cost perspective it may be nice to add customers without adding the cost of providing support, however, engagement with new customers is a powerful way to assure that you help customers accelerate time to value and minimize potential churn.
"If demand is growing due to increase in products sales – make certain that Support funding levels are sufficient to meet growing demand."
Higher Demand from Adoption and Proactive Engagement
For companies that report growing support demand, the increase is also attributed to higher user adoption of product features (38%) and more proactive outreach by Support and Customer Success teams (33%).
Companies that proactively engage customers and encourage product use and adoption will increase demand but are also likely to positively affect adoption and retention rates.
Support is Becoming More Proactive
Most Customer Support interactions today are reactive, but proactive support is on the rise. Proactive customer engagement accounts for more than a quarter (29%) of Support interactions and grew by 14% from 2021 to 2022.
Proactive support engagement includes automated and "tech-touch" events including monitoring, alerting, and automated delivery of content, as well as "high-touch" outreach including onboarding, account management, skills development, and adoption-related activities.
Figure 3: Proactive vs. Reactive Support Interactions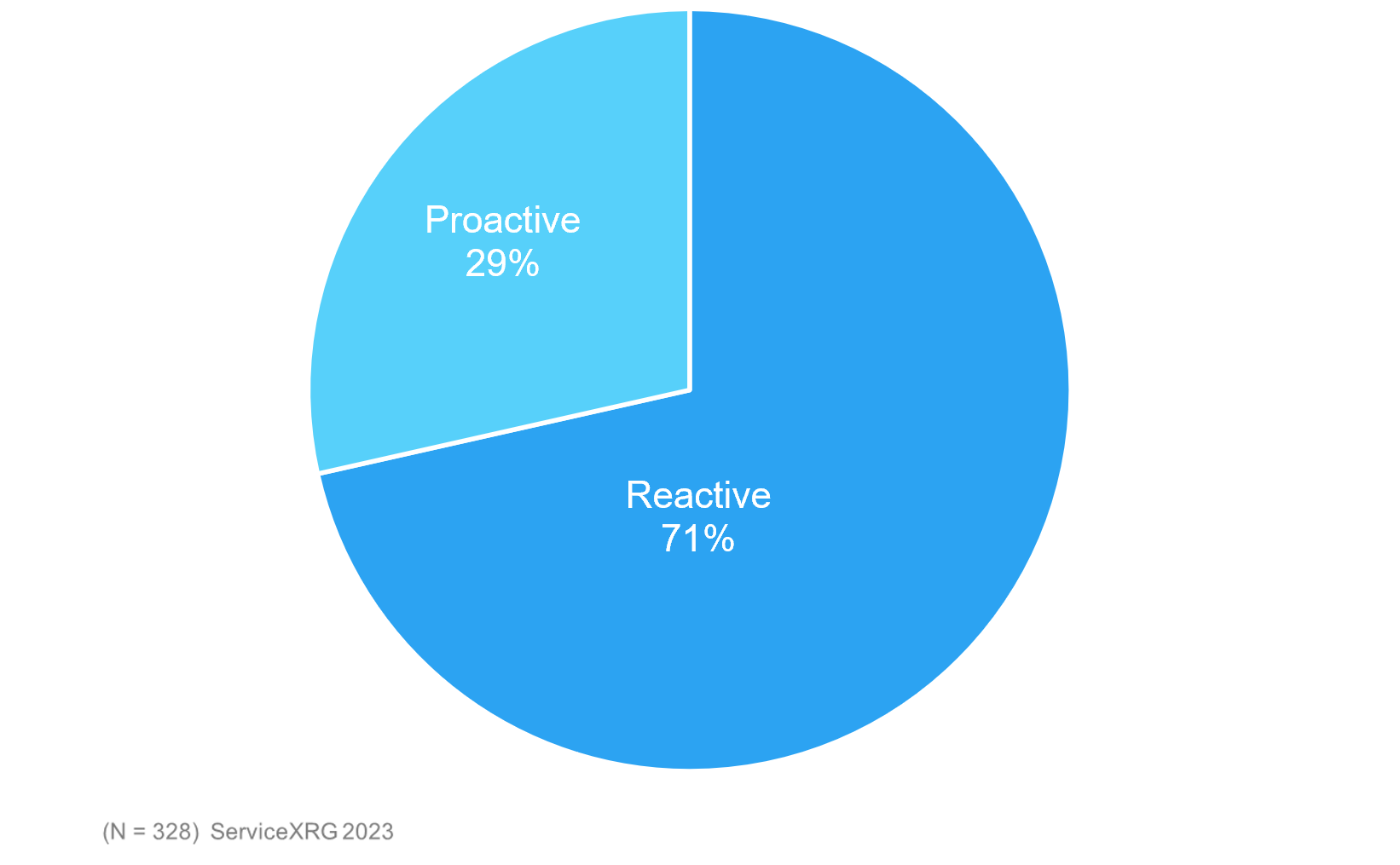 Positive Factors Lead to Lower Demand
Although only a few (13%) companies report lower overall support demand, the primary reasons are "positive."  The top reasons cited for lower overall support demand include improved product quality (22%), better training and documentation (16%), and expanded access to self-help resources (15%).
"Improved product quality, better documentation, and access to self-help resources lowers support demand."
Figure 4: Top Factors Contributing to Lower Support Demand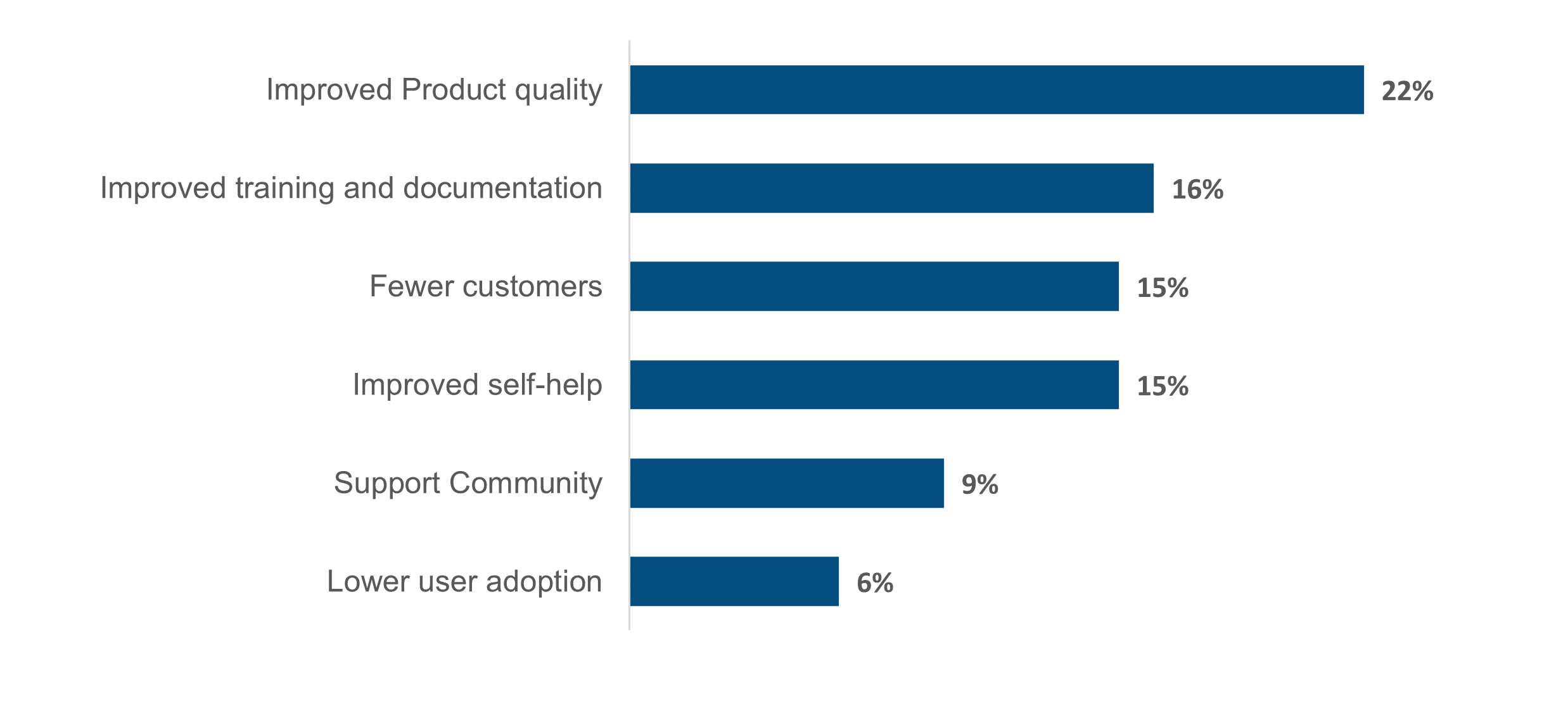 Multiple responses allowed
(N=328) ServiceXRG 2023

Churn Reduces Demand
Lower demand may also be caused by negative factors including customer churn (15%) and lower user adoption of products (6%).
Prepare to Meet Rising Support Demand
As Support demand rises and pressure to minimize costs affects staffing levels, Support may not be able to keep pace with customer demand unless it acts.  To keep pace with support demand companies can employ one of the following strategies to lower demand.
Top Methods to Lower Support Demand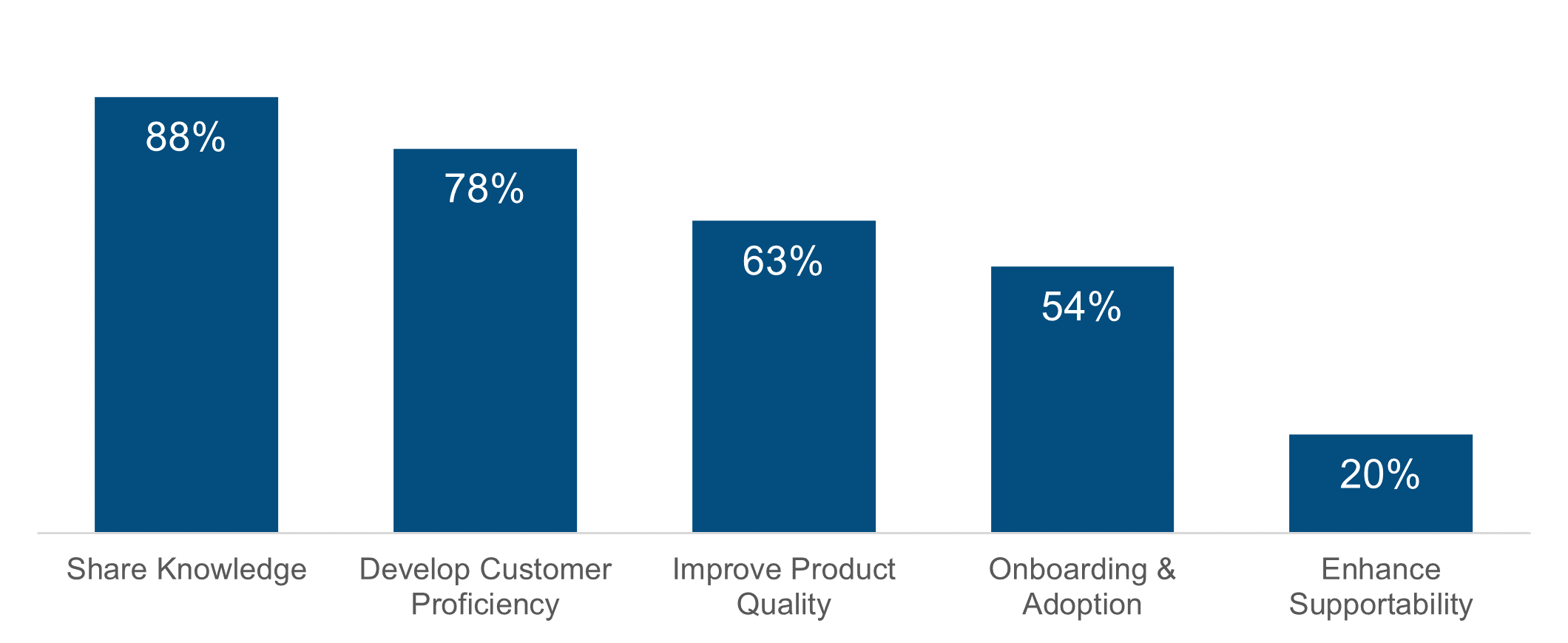 (N=328) ServiceXRG 2023
Share Knowledge
Capture and share knowledge and expertise directly with customers through searchable knowledge bases, communities, chatbots and best practice guides.
Develop Customer Proficiency
Develop and promote knowledge sharing and skills development resources to help customers grow expertise to use and apply products competently.
Improve Product Quality
Implement policies, practices, and roles to encourage collaboration between Support and product groups to build resilient products that are easier to support; to improve product reliability, performance, and usability.
Onboarding and Adoption
Effective customer onboarding and adoption focused services lower support demand.  Foster cooperation between Support and Success teams to effectively engage customers from Sales hand-off through onboarding, planning, and adoption stages.
Enhance Supportability
Advocate for product teams prioritize building resilient products that are easier to support.
About ServiceXRG
Since 2004, ServiceXRG has guided Support, Success, Service and CX leaders in their pursuit to optimize delivery strategies, deliver customer value, improve organizational effectiveness, adopt technology and automation, and maximize the role and impact of services.
To learn more visit www.servicexrg.com